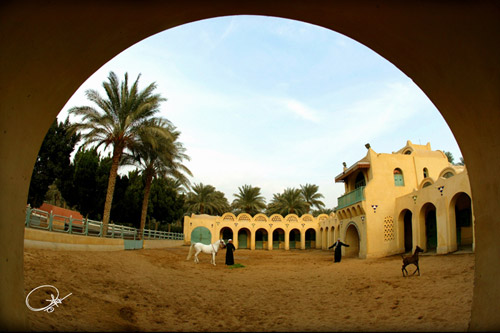 Rabab Stud came to life in the early 1980's as the beginnings of a dream for Khaled bin Laden. As with many Arabian horse breeders, it all began as a fascination with the Arabian and a strong interest in its beauty, character, spirit and of course, its history. As a rider, he was primarily interested in athletic ability. However, one day he saw an Alaa el Din daughter, named Rabab and determined that he would buy land near the desert and begin to breed Arabians.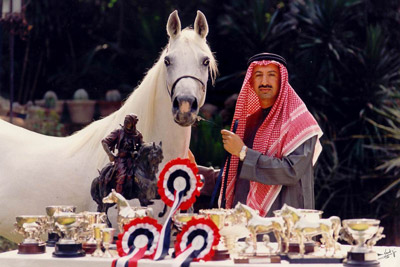 Since then, the farm has been in a constant process of evolving and enlarging its program. Today, Rabab Stud is situated on a lush green land with paddocks nestled amidst date palm groves and brightly flowering cactus plants right at the edge of the desert near the pyramids of ancient Egypt. The stables are built in a gentle Arab style with domes surmounting wide aisled rows of stalls. Air and light freely circulate as the horses thrive in natural surroundings.

Khaled's early years in breeding involved studying the various lines and learning what he wanted to stress in his breeding. Much of this time was spent with Mm. Wegdan El Barbary whose Shams El Asil farm contributed so much to Rabab's initial program with the get of Bilal and Misk as well as Ibn Adaweya who is still a major force at the stud.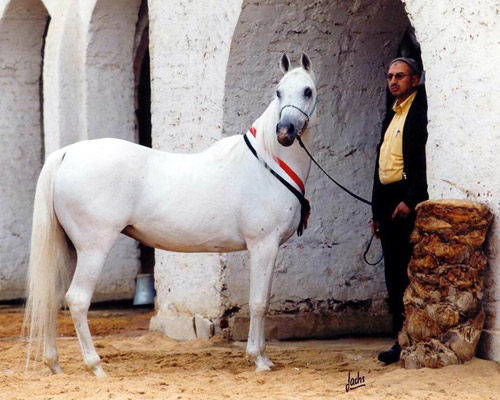 As his program has developed, Khaled has shown a great passion for bringing in horses and lines which he believes will add to developing the Rabab horse. As will be evident in the pedigrees shown with the horses, it has become a serious quest. The overall program has several avenues which are blending to create the horses he wants.
One of the major areas is a determination to breed midnight black horses that are extraordinarily beautiful as well as being strong in conformation.

Khaled is bringing back to Egypt some of the great lines which were not available for a number of years and breeding them to his horses of EAO origins. His son, Salem is heavily involved in the operation and is focusing on the athletic abilities of the Arabian as well as the beauty. Specifically, he has won the Dancing Horse Championship three years at the EAO on horses that he has trained.
In addition to the extensive breeding program, a full Equestrian Center has been built which is scheduling show jumping and dressage competitions as well as expanding the philosophy that horses are meant to be enjoyed and ridden which contributes to their overall condition and conformation.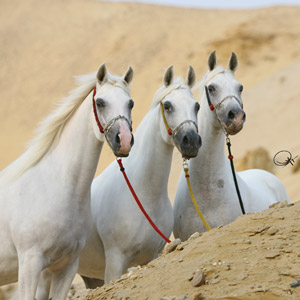 Sheikh Khaled compares breeding to art and music. "I am trying to create a symphony with the horse", he says. "It is like a composition where you take elements from many sources to form a piece of living art that must be harmonious. One of the older breeders here in Egypt once said that the Arabian horse is a moving tableau." Those sentiments are in great evidence as one walks around the paddocks and through the stables and enjoys the elegance and spirit of the Arabian horse in a surrounding that does it justice.